MOBILE AND RESPONSIVE WEBSITE PROGRAMMING SERVICES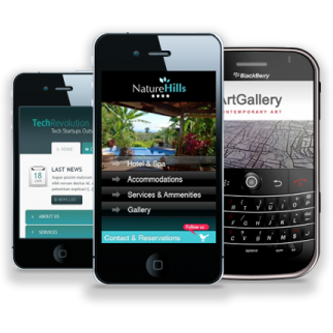 Designing for mobile devices
Mobile devices have quite different hardware characteristics compared with desktop or laptop computers. Their screens are usually smaller, obviously, but they also usually automatically switch the screen orientation between portrait and landscape mode as the user rotates the device. They usually have touch screens for user input.
WHY MOBILE WEBSITE PROGRAMMING?
Businesses that make mobile optimization a central part of their strategy will benefit from the opportunity to engage the new constantly connected consumer.
In 2018, 52.2% of all worldwide online traffic was generated through mobile phones (Statista, 2018)
57% of North American online traffic now comes from smartphones and tablets (BrightEdge, 2017)
About 3 in 5 consumers check their email on the go (Adestra)
75% of North Americans say they use their smartphones most often to check email (Adestra)
Mobile searches for "best" have grown over 80 percent in the past 2 years (Google, 2017)
51% of customers say that they use mobile devices to discover new brands and products (BrightEdge, 2017)
69% of smartphone users also say that they are more likely to buy from companies with mobile sites that easily address their questions or concerns (BrightEdge, 2017)
Worldwide, more people own a cell phone than a toothbrush. (Consumer Technology Association, 2015)
89% of people are likely to recommend a brand after a positive brand experience on Mobile (Google, 2017)
People today have 2X more interactions with brands on mobile than anywhere else—that includes TV, in-store, you name it (Google, 2017)
46% of people say they would not purchase from a brand again if they had an interruptive mobile experience (Google, 2017)
Users spend on average 69% of their media time on smartphones (Comscore, 2017)
57% of users say they won't recommend a business with a poorly-designed mobile site (socPub)
By 2018, American adults are expected to spend on average 3 hours and 23 minutes on nonvoice mobile media. (eMarketer)
Apps account for 89% of mobile media time, with the other 11% spent on websites. (Smart Insights)
Mobile Marketing and Ecommerce
HOW MUCH DOES A MOBILE WEBSITE COST?
The cost of programming a mobile website varies greatly depending on may factors. To get a rough idea of how much your mobile website programming will cost, check out our Programming Cost Estimator, or contact us for a free consultation.
Mobile Website Design Templates
If you're working on a limited budget, a great way to save on the cost of design is choosing a pre-designed template. You can choose from over 250 ready-to-use templates that can be customized to suit your design needs. Simply select a layout, and we'll provide proofs with your design elements before programming begins.
What Our Clients Say
Aucet Technologies

Thank you, thank you, thank you! I couldn't be happier with the quality of work, the cost, or the speed of implementation provided by Electric Silk. Thank you for making my business be able to work the way I envisioned it!

Clear Blue Sky

Working with Electric Silk (BC) gives me a no-nonsense approach to the best way to build my mobile marketing strategy, its not just about a good looking web site, it's how this web site can work for me and my clients. Electric Silk's helpful and straight forward approach helps my business grow.

Just Jon

Electric Silk has been handling our online presence and website programming for more than 20 years. From concept to design, excellent service and follow up. No need to look anywhere else.

Heli Canada Adventures

Electric Silk (BC) is a prime example of top quality web site design and exceptional customer service. We have been clients for over ten years and have watched their work increase our business by over seventy percent!

Kaslo Hotel

Thank you. You have exceeded our expectations with the updated website. Once again you made a daunting task so easy.

Alberta Marriage Commissioner

We love our new website! Electric Silk (BC) made even the most complicated elements so easy to use. Thanks for making the entire process so enjoyable!

Kaslo Hotel

Fast, efficient, knowledgeable and affordable – that's the kind of service we needed from Electric Silk for changes to our website design...and that's what we got.

Laughopolis TV

We love our new website! Electric Silk (BC) made even the most complicated elements so easy to use. Thanks for making the entire process so enjoyable!
Website Developer
Our focus is on full stack web programming with PHP & MySQL, building custom websites from scratch and building WordPress Websites.
We also offer other website services, including domain registration, website hosting, secure certificates, website maintenance, updates and support. If you're not sure where to start, contact us about our free website programming consultation.
Electric Silk is a great resource for small businesses and individuals trying to build, rebuild, expand or "clean up" their outdated web presence.
Why Use a Freelance Web Developer?
Generally, those seeking freelance web developers fall into one of these categories.
Personal/internal web development skills are not sufficient.
Hiring a full-time on-site web programmer is not feasible.
Desire for a professional website programmer who works well independently.
If this sounds like you, Electric Silk is an expert web developer for hire. Contact us to get a website development cost for your project.