How much does a website cost?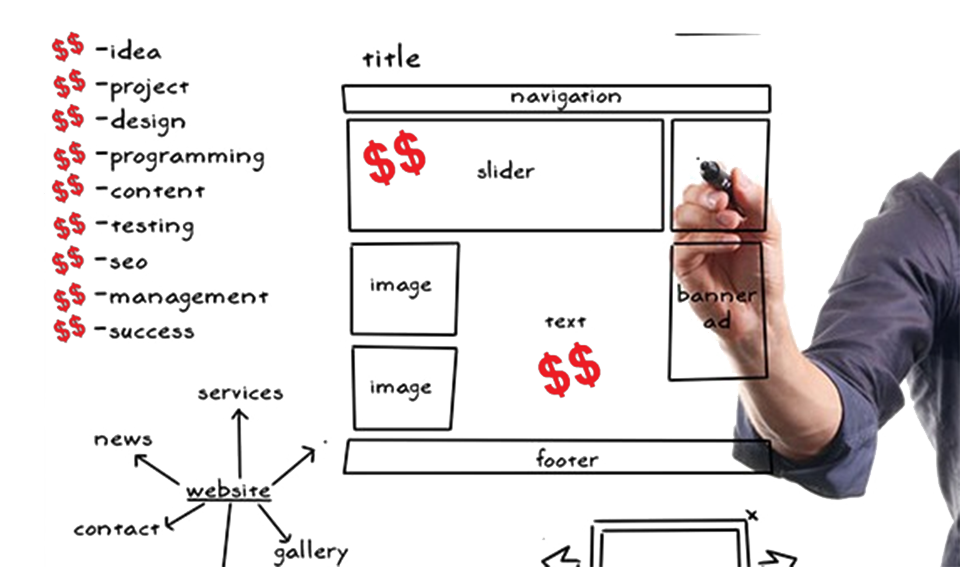 The myths and the facts about the cost of web development
Many people ask me "how much will it cost to make my website?". Simply put, the cost of a website depends on many factors and there is no simple answer. Similarly, ask yourself the price of a car, or a house, or an advertising campaign. If you've been wading through the myriad of options to find the right web developer at the right cost, you're not alone. With almost 2 billions website online today, the price variance seems to have no bounds.
This article is here to provide some guidelines to help determine a realistic budget for your business website.
WHERE DO I START?
There are a number of ways to help you determine a reasonable budget for your website development. One of the best ways is to have a consultation with a professional website developer. Most professional web developers offer a free initial consultation in which they explain the process and make preliminary recommendations based on your specific business needs.
FACTORS TO CONSIDER IN WEBSITE DEVELOPMENT COSTS
Here are some of the main factors to consider when determining a budget for your website production:
Type of website — The cost of website production is highly dependent on the type of site you need. A simple blog is easier to produce than an online store…and a small business website has far less depth than an enterprise site.
Basic technology — In the most basic sense, you need to decide whether you want a static HTML site, or a site with a Content Management System (CMS). Depending on your needs, costs will vary accordingly.
Bells & Whistles — The basic technology is only the platform. The cost or your website production will be affected by any extended functionality you need. This can include things like image galleries, project portfolios, and the like.
As you can see, there are a number of things to consider when determining the cost of website development. Using our trusty friend Google, we found that the going rate in 2018 to build a modern, professional small business website was typically $4,000-$8,000 but could be as much as $20,000 or more depending on the number of pages on the site and the amount of customization required.
PRO TIP # 1: If you want to hire a professional to develop your website but feel like you canèt afford the investment in one lump sum, see if they offer payment terms. That way you can get a professional website help grow your business without putting a strain on your budget.
PRO TIP # 2: Be very wary with "bargain-basement pricing". Unusually low prices can signal shoddy workmanship or they may nickel and dime you for every little update. As we all know, you usually only get what you pay for.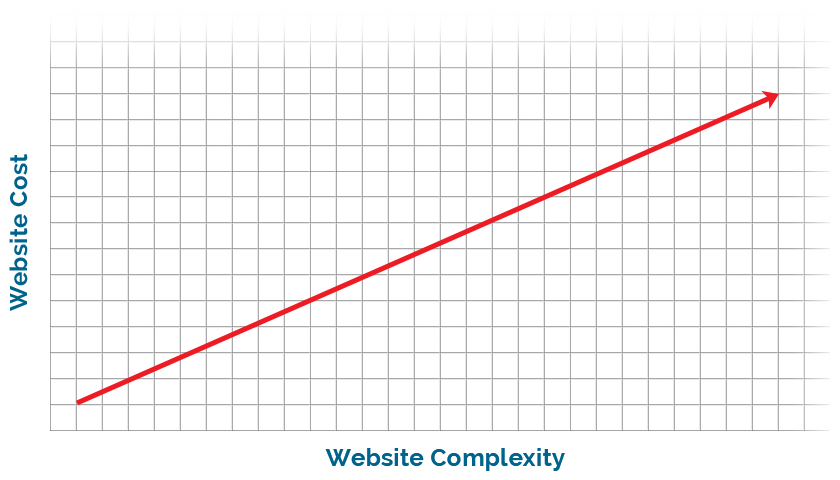 Additional Costs
Domain & Hosting — Your website will need an address and a home. In technical terms, that's a website domain name and a host server. The cost of these services varies depending on the provider and the level of performance on the server. Domain name registration is usually around $10 per year, and hosting can range from around $100 per year for basic service, to $500 per year or more.
Maintenance — Once your site is up and running, you need to consider the cost of ongoing maintenance. Unless you opt for a CMS website, there would likely be costs for updates to page copy and images, or for adding functionality.
SEO and Advertising — It's not enough to just build a website and hope visitors will come. If you really want results from your website you'll need to consider costs for Search Engine Optimization (SEO) and various forms of advertising that will help drive traffic to your site.
So, How Much Does a Website Cost?
As you can see now, the answer is that it depends on many factors. Consider your business needs, your preferences, your budget, and how much of your own time you're willing to invest or outsource. You can get a reasonable estimate of your web development costs using our Website Programming Cost Estimator…or feel free to contact us for a free initial website development consultation.
How does the payment process work?
With Electric Silk, each website development project starts with a 50% deposit. After design sign off and before we move into programming, we collect 25%. Once production is completed and milestones fulfilled, the final 25% is collected prior to your website being scheduled for launch.
Website Programming Cost Comparison:
DYI Website
Your basic do-it-yourself website built with Wix, SquareSpace or other website builder.
Free to $50 per month
Basic Agency Website
A general guideline if you're working with an agency to build a simple website without too much complexity.
$2,000 to $10,000
Advanced Website
A general price range for an advanced website with extended functionality. This level includes a CMS tool that allows you to update your website yourself.
$2,000 to $10,000
Custom Website
A fully custom website solution. An enterprise or larger site, with advanced functionality to fit your specific needs.
$25,000 to $100,000+