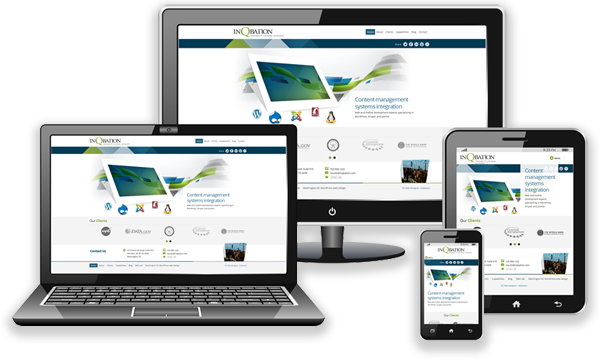 Responsive and Mobile Website Programming Services
WHY RESPONSIVE WEBSITE PROGRAMMING?
Smartphones, tablets and mobile PC's have changed the direction of website programming towards optimal user experience. Day by day, the number of devices, platforms, and browsers that need to work with your website grows.
With a focus on enhanced user experience, responsive website programming and design represents a fundamental shift in how websites will be built for the some time to come.
WHAT IS RESPONSIVE WEBSITE DESIGN?
Responsive website design is an approach of laying-out and coding a website such that the website provides an optimal viewing experience – ease of reading and navigation with a minimum of resizing, panning, and scrolling – across a wide range of devices…from desktop computer monitors to mobile phones. Responsive website design also replaces the previous need to design a dedicated mobile website for smartphone users. Now, instead of designing multiple websites for different screen sizes, you can design just one website that scales up or down automatically to match the device it's being viewed on.
WHY DO I NEED A RESPONSIVE WEBSITE?
Responsive design can help you solve a lot of problems for your website. It will make your site mobile-friendly, improve the way it looks on devices with both large and small screens, and increase the amount of time that visitors spend on your site. It can also help you improve your rankings in search engines.
We live in a multi-screen society. Because of this, it's important for your site to be viewable across as many devices as possible, because you never know what device someone will be using to view your website.
Responsive website stats suggest that it's wise to appeal to both desktop and mobile viewers. The number of mobile viewers now outnumbers desktop, and this number will only continue to rise as global smartphone accessibility increases.
Additionally, in early 2015, Google announced that mobile-friendliness would become a ranking factor in its search engine algorithms. This meant that sites that were mobile-friendly would potentially lose some ground in search engine results because they wouldn't be delivering a good experience to mobile searchers and viewers.
In summary, the benefits of choosing responsive design for your website include:
Cost effectiveness
Flexibility
Improved user experience
Search engine optimization gains
Ease of management
HOW MUCH DOES A RESPONSIVE WEBSITE COST?
The cost of programming a responsive website varies greatly depending on may factors. To get a rough idea of how much your responsive website programming will cost, check out our Programming Cost Estimator, or contact us for a free consultation.
Current Production Rate: $100 per hour
Responsive Website Design Templates
A great way to save on the cost of design is choosing a pre-designed template. You can choose from over 250 ready-to-use templates that can be customized to suit your design needs. Simply select a layout, and we'll provide proofs with your design elements before programming begins.
What Our Clients Say
Kaslo Hotel

Thank you. You have exceeded our expectations with the updated website. Once again you made a daunting task so easy.

Just Jon

Electric Silk has been handling our online presence and website programming for more than 20 years. From concept to design, excellent service and follow up. No need to look anywhere else. 

Heli Canada Adventures

Electric Silk (BC) is a prime example of top quality web site design and exceptional customer service. We have been clients for over ten years and have watched their work increase our business by over seventy percent! 

Alberta Marriage Commissioner

We love our new website! Electric Silk (BC) made even the most complicated elements so easy to use. Thanks for making the entire process so enjoyable!
 

Aucet Technologies

Thank you, thank you, thank you! I couldn't be happier with the quality of work, the cost, or the speed of implementation provided by Electric Silk. Thank you for making my business be able to work the way I envisioned it!

Clear Blue Sky

Working with Electric Silk (BC) gives me a no-nonsense approach to the best way to build my mobile marketing strategy, its not just about a good looking web site, it's how this web site can work for me and my clients. Electric Silk's helpful and straight forward approach helps my business grow.

Kaslo Hotel

Fast, efficient, knowledgeable and affordable – that's the kind of service we needed from Electric Silk for changes to our website design...and that's what we got. 

Laughopolis TV

We love our new website! Electric Silk (BC) made even the most complicated elements so easy to use. Thanks for making the entire process so enjoyable!
 
Website Developer
Our focus is on full stack web programming with PHP & MySQL, building custom websites from scratch and building WordPress Websites.
We also offer other website services, including domain registration, website hosting, secure certificates, website maintenance, updates and support. If you're not sure where to start, contact us about our free website programming consultation.
Electric Silk is a great resource for small businesses and individuals trying to build, rebuild, expand or "clean up" their outdated web presence.
Why Use a Freelance Web Developer?
Generally, those seeking freelance web developers fall into one of these categories.
Personal/internal web development skills are not sufficient.
Hiring a full-time on-site web programmer is not feasible.
Desire for a professional website programmer who works well independently.
If this sounds like you, Electric Silk is an expert web developer for hire. Contact us to get a website development cost for your project.